Product Description
-Made of 600D polyester canvas with double PU Coating, Marine grade
-1" diameter aluminum frame with double-walled main bow legs for maximum strength
and free qucik release mounts
-Two options: 4 adjustable straps or 2 rear support poles with 2 front adjustable straps

- 10 optional fabric colors: Beige, Black, Red, Charcoal, Green, Light Grey, Navy Blue,

Pacific Blue, Teal, White
-Includes one coordinated zippered storage boot and all mounting accessories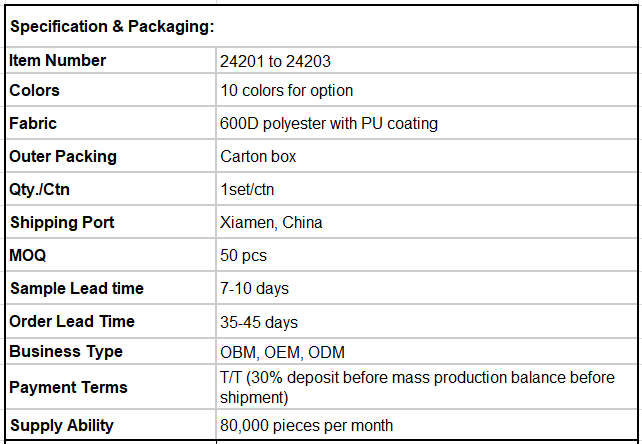 How to select your Bimini Top?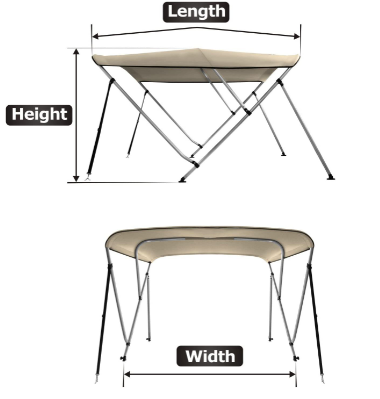 Determine which size top to order is choosing the dimensions that best accommodate
your boat and your requirements. Think about the coverage area when the top is

deployed or opened and also where it falls when it's closed and folded down at the

rear of the boat. Make sure there is enough space in front of and behind the deployed
top to mount eye straps to secure the hold-down straps or braces.

Find the width, determine the pivotal mounting point located on each side of the boat.

The pivotal mounting point will be approximately at the center point of the top on each

side of the boat. After determining where the pivotal mount location will be on each

side of the boat, measure the distance between these mounting points to determine

the width of top you need. To determine the desired height, measure straight up from

the pivotal mounting point while standing inside the boat. This measurement should
be the minimum headroom clearance desired. Note that the height of the top is
not the distance from the boat floor or the length of the frame arms.

Note: Bimini Top should never be open when boat speed is over 25 mph.